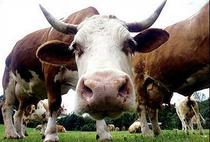 On the heels of the USDA's announcement that it may
allow chicken slaughterhouses to self regulate
- a dangerous measure that could lead to a colossal disease epidemic in the United States - the USDA has just
confirmed a case of bovine spongiform encephalopathy (BSE)
, commonly known as "Mad Cow Disease," in California.
BSE is a fatal neurodegenerative disease in cows that causes a spongy degeneration in the brain and spinal cord. The United States saw outbreaks of BSE in 2003 and 2006. Canada, the largest agricultural trading partner of the U.S., has had 19 cases since 2011. In Britain, there have been a staggering 184,000 cases of BSE since 1987.
The disease is transmitted through
contaminated feed
, and can be spread to humans who consume infected carcasses - potentially causing dementia or death.
John Clifford, the USDA's chief veterinarian, states that it is possible for a diseased animal to be sent into the food supply.
In a
public statement
, MFA's Executive Director Nathan Runkle says, "As frightening as it is to learn that Mad Cow Disease is in the United States, it only adds to serious health risks already associated with meat consumption, such as heart disease, high blood pressure, cancer, E. coli, salmonella and other deadly diseases that kill hundreds of thousands of Americans each year."
"The USDA is playing Russian roulette with public health," states Michael Hansen, staff scientist at Consumers Union. He says this new case of Mad Cow Disease in the U.S. shows a need to boost transparency in animal agriculture. Unfortunately, agribusiness interests are doing everything in their power to limit surveillance, from
laws making it a crime to photograph or film factory farms
to proposals that would drastically
cut inspection of slaughterhouses
.
In 2011, squalid conditions at slaughterhouses and factory farms led to over 100 recalls of
beef
,
poultry
and
eggs
. MFA
investigations
have exposed rampant filth, unsanitary conditions, disease - birds with cantaloupe-sized tumors, open wounds and infections - and sick animals making their way into the human food supply.
Americans can avoid the many deadly
health threats
posed by consuming animal products by adopting a healthy and compassionate vegetarian diet.
After all, there is no such thing as mad tofu disease.
For delicious recipes and tips on transitioning to a plant-based lifestyle, visit
ChooseVeg.com
.
Click here
for your free
Vegetarian Starter Kit
.