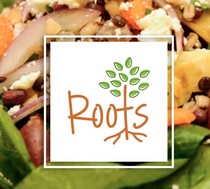 Cruelty-free eating is catching on at college campuses across the country as more and more students learn of the devastating consequences that raising animals for food has on the environment, human health and animal welfare. In fact,
vegetarianism has gone up 50 percent and veganism has doubled
on college campuses in the last several years. According to a recent report,
1 in 5 college students is ditching meat
in favor of healthier and more humane plant-based alternatives.
Noticing the growing veggie trend, campus dining services are increasingly stepping up to the plate and adding vegan and vegetarian options that all students can enjoy. Last year, the
University of North Texas
made headlines after responding to student demand by making its Mean Greens dining hall menu 100 percent vegan. And now, San Diego's veg-friendly campus dining scene is getting a boost thanks to Roots!
Roots
is a completely vegetarian and primarily vegan eatery and lounge that just opened on the University of California, San Diego campus. Diners can select delicious
plant-based dishes
ranging from colorful salads to a hearty grilled vegan "chiken" sandwich with all the fixings. Given the venue's
sustainable
and cruelty-free fare, it comes as no surprise that Roots is located in Muir College - home to the university's Environmental Studies program.
If you're a student and your cafeteria could improve upon its plant-based meal offerings, why not nudge your school in the right direction? High schools and colleges across the country are expanding meat-free meal options, adopting
Meatless Monday
programs, and, in some cases, even welcoming totally meat-free eateries.
Check out this helpful
Guide to Veganizing Your University's Cafeteria
and
related video
for tips on how to keep vegetarianism growing in your area.