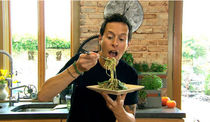 Tune in to the Cooking Channel this Sunday for the premiere of
How to Live to 100
, a new vegan cooking show hosted by celebrity chef
Jason Wrobel
. Wrobel has gained a large following for his popular YouTube program
The J-Wro Show
and for his bestselling instructional DVD,
Simple Vegan Classics
. Some of Wrobel's biggest fans include vegan superstars Woody Harrelson and Russell Simmons, who constantly rave about his delicious and innovative cooking.
From
mainstream media outlets
to
top food trend publications
, veganism has reached new heights in the food world, making this the perfect time for the Cooking Channel to follow suit by promoting kind and compassionate plant-based eating.
Be sure to check out the premiere of
How to Live to 100
on Sunday, January 6 at 8:00 p.m. ET and show the network your support of plant-based cooking programs. Visit
ChooseVeg.com
for even more delicious recipes and helpful tips on transitioning to a healthy and humane lifestyle.