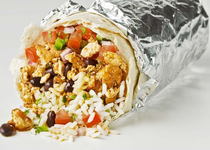 Last year, Chipotle began offering Sofritas, a vegan tofu blend "braised with chipotle chilis, roasted pablanos, and spices," for its burritos and bowls in California.
Earlier this week, the company announced that it would expand this delicious menu item to its northeastern locations, with plans to eventually roll out this option at all 1,400 U.S. locations.
"
The Huffington Post
" reports that the Sofritas burrito will soon be available nationwide. Already available in more than 12 states, about 40 percent of Chipotle restaurants already offer it.
With delicious vegan dishes available at
restaurant chains around the country
, there's never been a better time to try out a plant-based diet.
For delicious recipes and tips on making the transition, visit
ChooseVeg.com
.