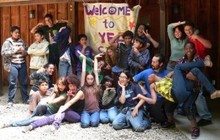 This summer, young people who care about animals have an amazing opportunity to become more effective advocates and to be surrounded by peers and adults who also care about important social issues.
Youth Empowered Action (YEA) Camp
is a unique and fun weeklong, all-vegan summer camp for 12 - 17 year-olds who want to make a difference in the world.
YEA Camp is designed to launch young people onto a lifetime path of activism and change-making on issues they care about - whether it's veganism or factory farming, climate change or homophobia. Campers learn how to apply art and creativity to social change, to communicate more effectively, to run an effective school club, to plan a campaign, and more.
And YEA Campers are making a difference in the world. In the last year alone, YEA Campers have started animal rights groups at their schools, encouraged their school cafeterias to add vegan meal options and to participate in the
Meatless Monday program
, raised $1000 for a local animal shelter and have collected signatures for the
ballot initiative in Washington state
to ban the cruel confinement of farmed animals.
Working in their schools and communities, YEA Campers are role models for their peers who care about being compassionate to animals, and encourage their friends and families to take action to make the world a better place for all living creatures.
YEA Camp runs camps in Portland, OR, and northern California, but campers travel from all over the country for this unique program. To find out more about YEA Camp or to apply to come to camp, please visit
YeaCamp.org
.