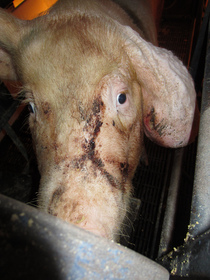 On the heels of
MFA's latest undercover investigation
at Iowa's leading pork producer, the
efforts of pro-factory farming legislators
in the state to criminalize such investigations have stalled out. Due in large part to the compassionate MFA supporters who contacted their legislators urging them to
reject these dangerous bills
, similar efforts to shield animal abusers from public scrutiny in Florida, Minnesota and New York also failed this year.
Decried as unconstitutional by free speech advocates and
opposed by the majority of voters
, these so-called "Ag-Gag" bills aimed at outlawing the production, possession or distribution of video or photographs of farmed animal cruelty were harshly condemned by media outlets nationwide, including
CNN
,
The New York Times
and
TIME Magazine
.
Because consumers have a right to know how animals are treated on factory farms and video footage is the most powerful tool the animal rights movement has, MFA ramped up its efforts to expose the
plight of farmed animals
to people across the country with our popular
Farm to Fridge Tour
. From
New York City
to
Los Angeles
,
New Orleans
to
Bozeman
, the tour garnered tons of attention, including great
mainstream media coverage
alerting consumers to common agricultural practices that, while deemed legal in most states, shock and horrify most Americans.
While these bills failed to pass this year, it is certain the powerful factory farming lobby is already hard at work ensuring they will be introduced again next year - making it even more vital that animal advocates continue to distribute undercover videos of factory farms, hatcheries and slaughterhouses and expose consumers to the cruelty inherent in animal agriculture. Now is the time to speak out!