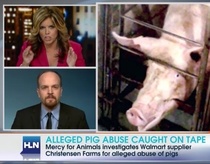 CNN's
Jane Velez-Mitchell
, on her namesake Headline News Network show, interviewed MFA's director of investigations Matt Rice about the recent
investigation into Christensen Farms
- a Walmart pork supplier.
The shocking hidden-camera video documents thousands of mother pigs forced to live inside narrow metal gestation crates barely larger than their own bodies, piglets slammed headfirst into the ground, workers cutting off piglets' tails and testicles without painkillers, and animals suffering from bloody open wounds.
Watch the interview here:
Numerous undercover investigations at Walmart pork suppliers, including
MFA's investigation at Iowa Select Farms
last year, have revealed similarly cruel conditions. While all of the abuses documented during these investigations are horrific, condemning intelligent and social animals to lifetimes of misery and deprivation inside gestation crates so small they can't even turn around or lie down comfortably is perhaps the cruelest form of institutionalized animal abuse in existence.
After behind-the-scenes discussions with MFA following the investigation,
Costco and Kmart
joined the ranks of other leading food providers, including Safeway, Kroger, McDonald's, and Burger King, in demanding their pork suppliers do away with gestation crates. MFA is now calling on Walmart to quickly follow the lead of its competitors. Visit
WalmartCruelty.com
to sign the petition calling on Walmart to take a stand against animal abuse by requiring its pork suppliers to end the use of gestation crates.
MFA is also launching a national campaign against Walmart--starting with an eye-catching protest outside a Walmart store in Los Angeles this week and followed by similar protests at Walmart stores in more than 70 cities across the country over the next few months. Protestors will be joined by a
10-foot-tall inflatable pig
, covered in bloody sores and crammed inside a tiny gestation crate.
Where:
Outside Walmart at 4101 Crenshaw Blvd., Los Angeles, CA
When:
Tuesday, July 31, 2012 from 10:30 a.m. to 12:00 p.m.
For additional Walmart protest tour dates and event information,
click here
.
While Walmart has the moral obligation and purchasing power to lessen the cruelty suffered by the millions of pigs who are raised and killed for pork sold in its stores, consumers also hold enormous power of their own in preventing animal abuse by adopting a compassionate,
vegan diet
.