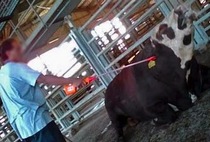 Anonymous for Animal Rights, an Israeli animal protection organization, has released
startling undercover video footage
showing cows and other animals being shocked with electric prods in their eyes, genitals, and anuses. At one point, a worker is heard saying: "Shove the shocker up his ass, he will move; in any event, he will move."
The horrific findings have garnered widespread media attention around the world, as well as calls for the slaughterhouse to be shut down on grounds of severe violations of the Israel Animal Welfare Act.
Watch the undercover video footage here:
According to an article in the
Sydney Morning Herald
, the fact that many of the animals at this slaughterhouse come from Australia has sparked condemnation by government officials and demands by the RSPCA and Animals Australia to suspend live animal shipments to the Middle East.
Although unconscionable cruelty and violence are standard practice in the meat, dairy, and egg industries, caring consumers can help end the needless suffering of cows and other farmed animals by choosing healthy and humane vegetarian alternatives. Visit
ChooseVeg.com
to learn more.