Halfway through a three-month tour, and having already visited 40 cities, MFA's Walmart Cruelty Tour continues to shed light on Walmart's shameful business practices.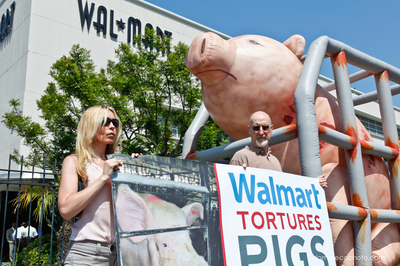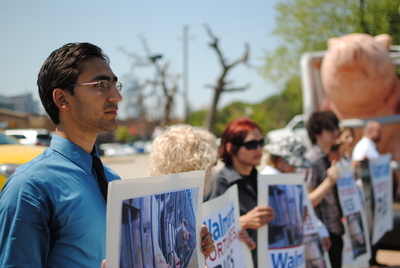 Earlier this year,
hidden-camera footage
secretly recorded at Christensen Farms, a Walmart pork supplier, revealed pregnant pigs confined for nearly their entire lives in fly-infested crates barely larger than their own bodies. Visibly shocked by images of tightly confined mother pigs, countless people have pledged to boycott Walmart for its support of one of the cruelest factory farming practices in existence.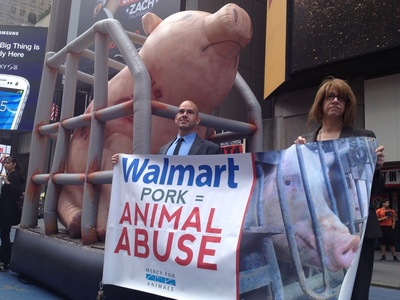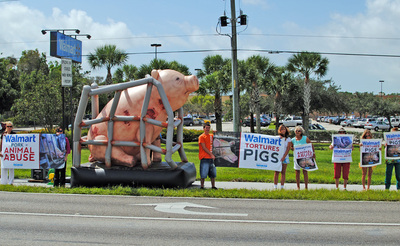 Making stops in California, Arizona, Texas, Louisiana, Alabama, Florida, Georgia, Maryland, South Carolina, North Carolina, Virginia, Pennsylvania, Massachusetts, Connecticut, Rhode Island, and DC, the tour has opened hearts and minds (as well as turned heads) with thought-provoking demonstrations featuring a 10-foot-tall, blood- and sore-covered pig locked in a filthy gestation crate--right in front of Walmart stores around the country.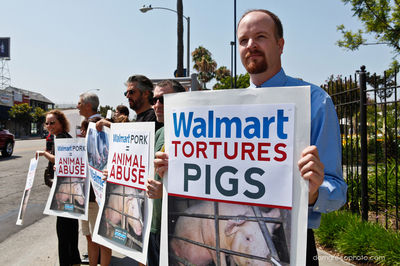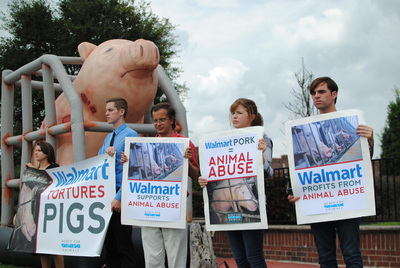 The tour has received much support from the public, as well as celebrities, including James Cromwell, best known for his role as farmer Hoggett in Babe, who joined Mercy For Animals outside a Los Angeles Walmart to kick off the tour, and New York State Assemblywoman Linda Rosenthal, who joined MFA in Times Square.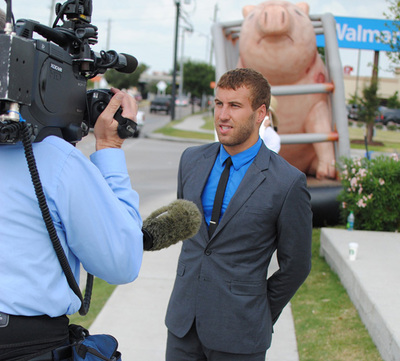 National media juggernauts and countless local print, TV, and radio stations have given media coverage to the tour, including the
Baltimore Sun
, the
Washington Examiner
,
ABC
, and
FOX
affiliates around the country.
Please support our call for Walmart to end the sale of crated pork.
Click here
for more information about upcoming tour dates and how you can get involved.