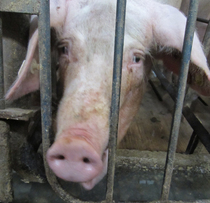 Walmart has been deemed
one of the worst offenders
when it comes to how the animals in its meat supply chain are treated. In a new report by the Business Benchmark on Farm Animal Welfare, a research and advocacy group, Walmart ranks on the lowest tier with regards to animal treatment standards. The group further states that animal welfare is simply not on Walmart's business agenda.
This comes as no surprise to Mercy For Animals. We've been
touring the country
, urging Walmart to phase out
inhumane gestation crates
--a factory farm practice so egregiously cruel that pigs can't even turn around or lie down comfortably. Other major companies, such as Kroger, McDonald's, Wendy's, and Safeway, have all committed to end their business relationships with pork suppliers that insist on this horrible practice.
This recently shot video, taken by an undercover investigator at a pork facility that sells to Walmart, exposes the pigs' abuse and neglect:
If you'd like to help put the heat on Walmart to change its cruel ways, follow the MFA
Walmart Cruelty Tour
and join the protest when it comes to your city. You can also email Walmart executives
here
.