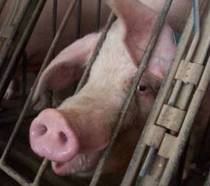 Compass Group, the largest foodservice company in the world, has taken a positive step forward in helping pigs on factory farms. The company that runs over 10,000 dining facilities in schools, hospitals and various other venues around the globe has committed to
eliminating purchase of gestation-crated pork by 2017
.
On modern day factory farms,
mother sows
are forced to spend their entire lives locked in cruel confinement systems, never allowed to breathe fresh air or engage in any natural behaviors. Compass Group joins the growing number of food providers who have also pledged to cut gestation crates, including
McDonald's
, Whole Foods, Wolfgang Puck, and Chipotle - sending a strong message to the pork industry that
animal abuse
will not be tolerated.
While the elimination of gestation crates may reduce animal suffering, the best way to withdraw support of animal abuse altogether is by adopting a kind and compassionate vegetarian diet. For delicious cruelty-free recipes, visit
ChooseVeg.com
.
For your free
Vegetarian Starter Kit
,
click here
.