The Hope Society was established to recognize individuals who have made a gift of $1,000 or more to support Mercy For Animals' crucial work on behalf of farmed animals.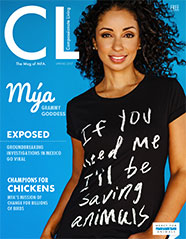 Benefits
When you join The Hope Society, you can feel pride in knowing that you are making an investment in a kinder tomorrow for all beings. As a member of The Hope Society, you will receive:
A special member certificate and card
A subscription to our quarterly Compassionate Living magazine
Exclusive monthly donor updates
Personal invitations to upcoming private MFA events in your area
Meet Hope
The society is named after Hope, a rescued egg-laying hen. MFA's founder, Nathan Runkle, discovered Hope atop the bodies of dozens of dead hens in a rusted trash bin at an egg factory farm in Ohio. Barely breathing and in dire need of veterinary care, Hope was given a second chance at life when she was removed from the facility by Nathan, treated by a veterinarian, and placed in the nurturing care of a local farmed animal sanctuary.
Before her rescue, Hope's life was limited to the harsh, barren wire of her tiny cage, which she shared with five other hens. In such confinement, Hope was unable to even spread her wings or walk. MFA is dedicated to ending the abuse that billions of farmed animals like Hope endure every year. And we are able to do this work in part because of the generosity of Hope Society members.
In 2016, Animal Charity Evaluators named Mercy For Animals a "top charity for maximum effectiveness" for the fourth year in a row.

"Overall, we find MFA to be an exceptionally strong organization because of their demonstrated willingness to adjust their programming to seek maximum effectiveness and because of the range of programs they have undertaken with good results."

MFA is named one of the "15 Top High-Impact Nonprofits" in the category of "animal welfare, rights, and protection" by Philanthropedia.

"Mercy For Animals has an immensely talented and dedicated crew of employees and attracts legions of volunteers. They are also fiscally responsible and make a great impact choosing campaigns that are not only effective, but cost-efficient."

Mercy For Animals has been consistently named Best In America by the Independent Charities of America, a seal awarded to less than 1 percent of charities nationwide each year.

"The Independent Charities Seal of Excellence is awarded to [charities] … that have, upon rigorous independent review, been able to certify, document, and demonstrate on an annual basis that they meet the highest standards of public accountability, program effectiveness, and cost effectiveness."

MFA was voted Favorite Non-Profit Organization in VegNews magazine's 2016 Veggie Awards. More than 1.7 million people voted. This marks the third year in a row MFA has been honored.

"Mercy For Animals has done nothing but explode, fast-tracking a vision of animal protection's promising future to the present."

Mercy For Animals is recognized as a Gold Level Participant of the GuideStar Exchange for its deep commitment to transparency and accountability.

The Gold Level is GuideStar's highest level and has been attained by less than 1 percent of U.S. nonprofits.
Questions?
If you would like guidance in joining the Hope Society, we are here to help. Liz Quick, our giving managerKrista Hiddema, our Managing Director in Canada, will gladly walk you through the process.